Some say social media platform isn't fair; others try to influence the process


Story by Stephanie Silverstein Reporter-Pacific Business News Email | Twitter
Nowadays, customers are giving less on-the-spot feedback to restaurant managers about the quality of food or service during a dining experience.
Yelp, which has been around for nearly a decade, and other social media websites have grown in popularity to the point where restaurant patrons are now more likely to share their opinions online with a wider audience and, potentially, have a bigger impact.
And, given that social media prevents the need for a face-to-face encounter, some of the comments and reviews are more critical and potentially more damaging than one patron telling one shift manager, chef or owner about ...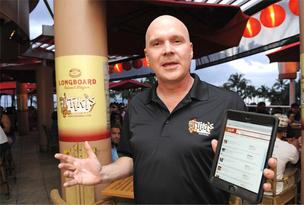 'I use Yelp as a tool to motivate my staff,' says Bill Tobin, co-owner of Tiki's Grill & Bar. 'We thought that we could better influence the process by being involved.' Others disagree..........
To continue reading subscribe now Already a subscriber? Sign in to link your subscription
Stephanie Silverstein covers tourism, retail and money for Pacific Business News.