There is
NO tsunami
threat
for MARCH 4, 2021 
to the State of Hawai'i
Still you should know your Hawaii Tsunami Evacuation Zones: https://dod.hawaii.gov/hiema/public-resources/tsunami-evacuation-zone/
But we were very concerned on Thursday 3/4/2021 with this first message.

ZCZC
WEHW40 PHEB 041938
TSUHWX
HIZ001>003-005>009-012>014-016>021-023>026-042138-
/O.NEW.PHEB.TS.A.0001.210304T1938Z-000000T0000Z/

BULLETIN
TSUNAMI MESSAGE NUMBER   1
NWS PACIFIC TSUNAMI WARNING CENTER EWA BEACH HI
938 AM HST THU MAR 04 2021

TO - EMERGENCY MANAGEMENT IN THE STATE OF HAWAII

SUBJECT - TSUNAMI WATCH

A TSUNAMI WATCH IS ISSUED FOR THE STATE OF HAWAII EFFECTIVE AT
0938 AM HST.

AN EARTHQUAKE HAS OCCURRED WITH THESE PRELIMINARY PARAMETERS

   ORIGIN TIME - 0928 AM HST 04 MAR 2021
   COORDINATES - 29.6 SOUTH  176.0 WEST
   LOCATION    - KERMADEC ISLANDS REGION
   MAGNITUDE   - 8.0  MOMENT

EVALUATION

 BASED ON ALL AVAILABLE DATA A TSUNAMI MAY HAVE BEEN GENERATED BY
 THIS EARTHQUAKE THAT COULD BE DESTRUCTIVE ON COASTAL AREAS EVEN
 FAR FROM THE EPICENTER. AN INVESTIGATION IS UNDERWAY TO DETERMINE
 IF THERE IS A TSUNAMI THREAT TO HAWAII.

 IF TSUNAMI WAVES IMPACT HAWAII THE ESTIMATED EARLIEST ARRIVAL OF
 THE FIRST TSUNAMI WAVE IS

                     0435 PM HST THU 04 MAR 2021

FURTHER MESSAGES WILL BE ISSUED HOURLY OR SOONER AS CONDITIONS
WARRANT UNTIL THE THREAT TO HAWAII HAS PASSED.
======

The morning after the watch I wanted to test my winlink HF station and skills in case they were needed.
Here are a few of the stations I was able to send and receive email messages. I would have tried for more but needed to get to work.
MAP from my home to the US Mainland. Using 100w on a ICOM IC-7300 and a G5RV jr antenna*
Here is the final message: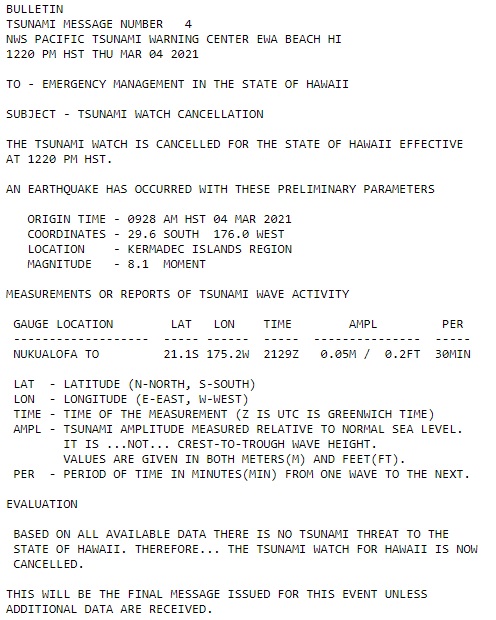 The Tsunami Watch triggered by a magnitude 8.1 earthquake near New Zealand, has been canceled for the state of Hawai'i.
The Watch was issued at 9:38 a.m. Thursday, according to Pacific Tsunami Warning Center. However, by 12:20 p.m., the agency canceled the alert.
"Based on all available data, there is no tsunami threat to the State of Hawai'i. Therefore, the Tsunami Watch for Hawai'i is now cancelled," the update read.
Winlink Global Radio Email
is a network of amateur radio and authorized government-licensed stations that provides worldwide radio email using radio pathways where the internet is not present. The system is built, operated and administered entirely by licensed "Ham" volunteers. It supports email with attachments, position reporting, weather and information bulletins, and is well-known for its role in interoperable emergency and disaster relief communications. It is capable of operating completely without the internet--automatically--using smart-network radio relays. Licensed Winlink operators/stations use both amateur radio and government radio frequencies worldwide.
https://www.winlink.org
* G5RV Junior Wire Antenna - Multi-Band center-fed dipole antennas. These are multi-band, center-fed dipole antenna capable of 1,500 watts. Designed as 3/2 wavelength antennas for 14 MHz, they provide reasonable performance on many other bands. They cover all bands from 40-10 meters with a wide range antenna tuner. They are 52 ft. long and are designed to be used as an inverted vee or sloper to be more compact. Specifications: Assembled Wire Antenna: Yes Wire Antenna Type: Multi-band, non-resonant Antenna Power Rating: 1,500 Watts Wire Antenna Length: 52.00 ft. Antenna Tuner Required: Yes Feedline Connection Type: UHF female, SO-239 Minimum Recommended Feedpoint Height: 35.00 ft. Wire Gauge: 14-gauge Center Insulator Maximum Rope Size: 0.375 in. Wire Antenna Weight: 2.90 lbs.
Michael KH6ML